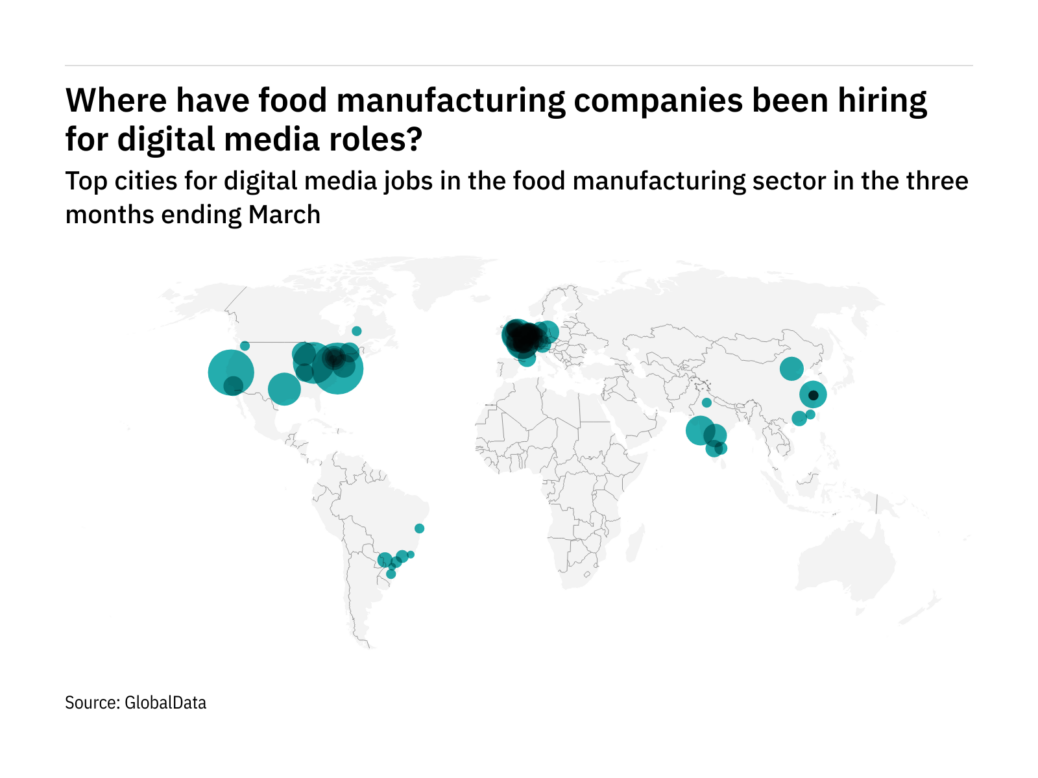 Dynamic Market in North America for Digital Media Roles in the Food Industry
North America extended its digital media hiring dominance among food manufacturers in the three months to March.
The number of roles in North America accounted for 40.4% of total digital media employment, up from 33.5% in the same quarter last year.
This was followed by Europe, which saw a four percentage point increase in advertised digital media roles.
GlobalData, the parent company of Just Food, tracks the number of new job postings from key companies in various industries over time. Using textual analysis, these job postings are categorized by topic. The data and analytics group seeks to gather key business insights by topic to see which companies are best positioned to weather the disruptions affecting their industries.
By tracking topics across job postings, GlobalData says it can weigh which companies are leading the way on specific issues and which are dragging their feet — and more importantly where the market is growing and contracting.
Which countries are experiencing the fastest growth in digital media jobs in the food industry?
The fastest growing country was the United States, which accounted for 38.1% of job vacancies in the three months to March, up from 28.1% a year earlier. This proportion of 38.1% made the United States the first country overall.
Next come Belgium (up 4.2 percentage points), the Netherlands (up 1.7 points) and India (up 1.2 points).
Which cities are the biggest hubs for digital media workers in the food industry?
Some 3.7% of all food industry digital media roles were advertised in York in the US in the three months to March.
This is followed by two other American cities – Mission (with 2.9%) and Chicago (with 2.3%). Pleasure in France represents 1.4% of roles.
Further analysis of employment trends in the industry:
Food industry RN hiring levels increase year over year
Cloud jobs are being filled faster at food manufacturers
Food industry interest in robotics jobs continues
The Netherlands in the spotlight as European food industry's appetite for AI jobs grows