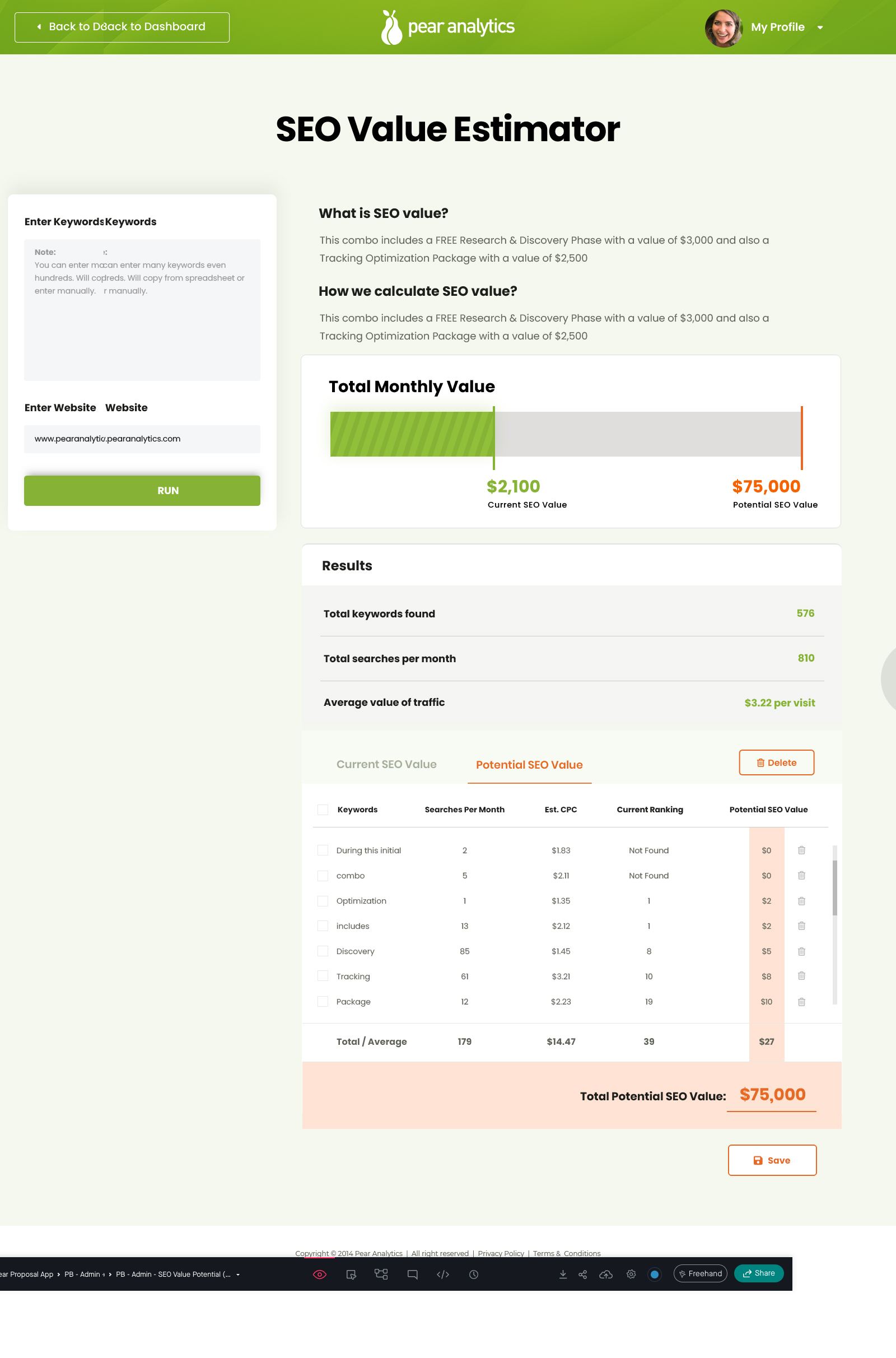 San Antonio SEO Company Pear Analytics Develops SEO Value Calculator
Pear Analytics, a San Antonio-based SEO company, has announced that it is developing a new search engine optimization (SEO) value calculator. This SEO Value Calculator was designed to help businesses determine if an SEO campaign is really worth pursuing and how they currently stack up against their competitors. It takes into account various factors, such as the organic position of this keyword, the click-through rate of this organic position and the cost per click of the keyword. You can try a free sample of the tool here: https://pearanalytics.com/san-antonio-seo-company/.
The company says the value is determined by looking at what current and potential organic traffic would cost if the company ran ads. "We're really excited about this tool," said Pear Analytics CEO and Founder Ryan Kelly. "It will be a valuable resource for businesses to measure the effectiveness of their SEO campaigns."
"Our ultimate goal is to bring this tool to other agencies to help sell the value of SEO and get more SEO deals, but also to show progress against the competition over time, which helps the agency to keep the SEO contract longer," says Kelly.
The end product will allow users to run basic reports to help sell SEO work and then continue to measure performance monthly.
The company plans to offer the tool for free to its customers and will offer a pay-as-you-go model for other users. Additionally, there will be a white label option that other SEO agencies or digital marketing agencies can use for their clients to help them sell the benefits of SEO.
Pear Analytics offers different types of digital marketing services. These include: PPC management services; website development and design; advanced marketing analytics; digital services for non-profit organizations; custom dashboards and reports; content marketing; social media marketing and management; and marketing automation. Those interested in learning more about the company and its services can visit their YouTube channel at https://www.youtube.com/channel/UCqTfy_jrV5zQet_w114cDlQ.
Pay-Per-Click (PPC) management services will be used for general leads and online sales, allowing the client company to be at the top of search engine results pages (SERPs) for desired keywords . Clients get a guaranteed placement regardless of their SEO effort. The company's team of experienced SEO specialists are dedicated to helping the company achieve its goal with Google Ads services.
With their website development and design services, clients will be able to achieve their business goals through modern websites that can deliver more leads like clockwork. The company's team of experienced web designers can help develop a website for the client that will not only look good, but also perform well and complement the client's SEO efforts, and most importantly, convert site visitors. into customers.
Pear Analytics' team of SEO experts are also highly experienced in advanced marketing analytics. This will provide clients with all the tools they need to be successful.
They can also provide custom dashboards and reports for digital marketing. This will allow clients to track their progress and see how their digital marketing efforts are affecting their business results.
Content marketing is also an important service offered by Pear Analytics. It involves creating valuable content that will attract links and traffic from other websites. They have a team of experienced writers who can write quality content that helps the site rank higher on Google and get more leads that can be converted into customers.
Launched in 2008, Pear Analytics has grown from a simple group of SEO experts into a full-service digital marketing agency with expertise in various types of disciplines. Kelly founded the company in a home office with a particular focus on marketing measurement and analytics. In 2019, the entire Pear Analytics team moved away for good due to COVID-19. This decision had not only saved a significant amount of cost, but also substantial gains in productivity and overall happiness with the team.
Those interested in learning more about Pear Analytics and their services can visit their website and book a free strategy session. Or view them on LinkedIn at https://www.linkedin.com/company/pear-analytics.
###
For more information about Pear Analytics, contact the company here:
Pear analysis
ryan kelly
(888) 427-2178
[email protected]
20079 Stone Oak Drive, Suite 1105-487
San Antonio, Texas 78258